In Chinese mythology there is the story of the Dragons Gate. This is the tale of Koi carp, each spring they swim up from the sea to the yellow river and its waterfalls. They fight a battle against adversity and obstacles but continue to be courageous and strong till they get to the top pool. At the top of the final waterfall is the Dragons Gate, Koi who are brave enough and manage to clear the final waterfall turn into a powerful dragon.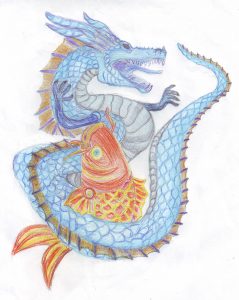 In relation to my journey I feel this fits very well, for years I have struggled to comfortably fit in, understand people and be myself. I knew there was something different about me, on top of everything else I also had sensory differences from other people and I did not fully understand why.
After looking at many things, at the age of 46 I realised I am autistic, I was very lucky that within a year I received my official diagnosis. This has been like a freedom, everything started to make sense and suddenly it allowed me to be who I have always been, but with more confidence.
By Wendy